`Duchess`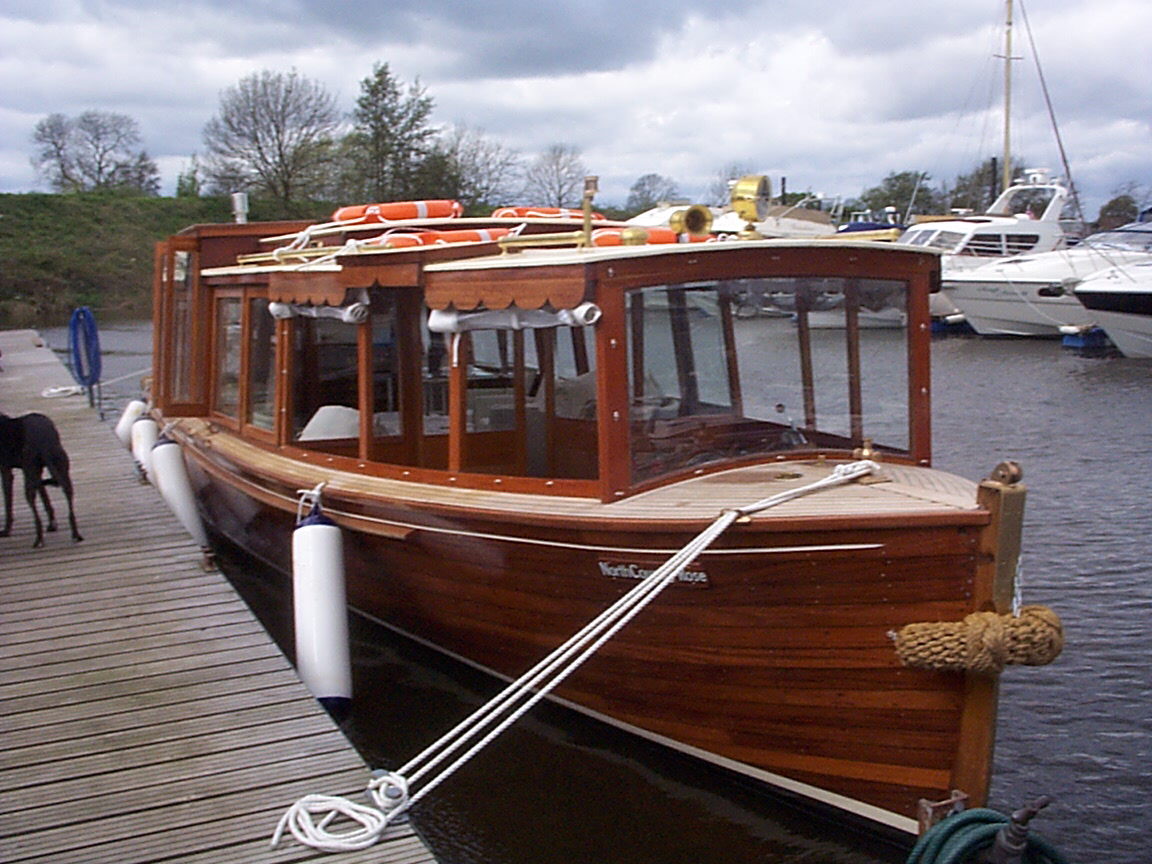 'Duchess' was transformed in sixteen month's. The before and after shots.
The project was started in January 2004. She was re-launched after many years lying derelict and then re-built by us in early May 2005.
`Duchess` is a 40` traditional gentleman's cruiser.
She has worked most of her life in Oxford as a pleasure cruiser.
Click on the picture to enlarge it!
`Duchess` six months into the project. The hull is now structurally complete having replaced all frames and 80% of the planking! The coach-roof is stripped and is being re-built. Windows are being fitted around the after end of the coach roof to form a large saloon. Many other jobs have been completed during the process of re-building the hull. The engine is re-built and re-installed. A new bronze back rail has been fabricated and is being polished.
Click on the picture to enlarge it!
Duchess latest photos as at 3/10/04. Nearing completion!
Click on any photo to enlarge it!
Duchess latest photo's posted 24/12/04.
One year into the project and Duchess is nearing completion, with all of the nice shiny bits going in. The next set of photo's shows the Reflex heater having been installed on a granite base and back board and other systems being installed.
Click on any photo to enlarge it!
Duchess is finished. The last photos are of her being delivered to her new owner and being launched. All furniture is now fitted and she is being used as a pleasure vessel.
I would like to thank the owner, my client, for his patience and allowing myself and my team to indulge fully our interest and ideas within this project. We hope that you enjoy boating on 'NorthCountry Rose'('Duchess').
What's next? See the 'Atlantis of Rhu' project!
See BOATS FOR SALE DETAILS for interesting boats.
If you have a boat that you would like restored telephone Traditional sail on 01454 880055 or 07710 175871 or E-mail enquiries@traditionalsail.co.uk
Contact Information. The 'Duchess' Re-build. The 'Atlantis of Rhu' project. The 'Skag of Lorne' project. Boat advert application form. Boats for sale listing. Boats for sale page. Past projects. Thames rowing skiff construction photo's. Thames rowing skiff complete! Links page.
The full Tradewind range. The Tradewind 35. The Tradewind Atoll 25. The Tradewind Islander 32.